As most of you are aware, the Governor has lifted the "Stay At Home" Order and implemented a rebound plan for Idaho. We want to make it perfectly clear: this has not and does not change our procedures and guidelines that we have established for all Bronco Motors Dealerships to continue to keep our employees and customers safe and healthy. All of our guidelines and requirements will remain in place at this time and moving forward. 
Your safety as well as our employees are our top priority. Coronavirus (COVID-19) is a complicated and fluid situation, and we continue to modify our processes to the highest standards according to information being provided by
the
Centers for Disease Control and Prevention (CDC)
, 
U.S. Department of State and public health officials.
Providing information on the steps we are taking is a critical step in giving you peace of mind that Bronco Motors Family of Dealerships is known for in the Treasure Valley. Here's what we're doing to ensure your safety with us:
Vehicles on Display
Our cleaning practices are meeting or exceeding all CDC guidelines. We have a strong, structured cleaning regimen nightly and daily. Our vehicles are cleaned and sanitized at key touchpoints with an EPA and CDC approved disinfectant.

Please know that each vehicle before you demo or take delivery of it will receive a clean and sanitized sticker once it goes through our rigorous cleaning regimen.

We're provisioning hand sanitizer, masks (required to wear) and sanitizing wipes for everyone including employees and customers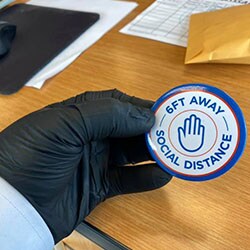 Dealership and Service Centers
Every employee is required to wear medical grade disposable gloves, masks, maintain 6 ft of separation, wash hands regularly and more. This also includes our own extensive protocol for cleaning customer and employee areas throughout the Dealership and Service Centers throughout the day.

We've designed our own cleaning procedures at the dealership and service centers. This includes a more thorough cleaning of all hard surfaces, door handles and furniture, disabling drinking fountains (we will have water bottles for everyone), switching out pens and more.

Sanitizing wipes, masks (required to wear) and hand sanitizing stations are available for customers and employees in key locations throughout the Dealership and Service Centers.

Right now we are enacting "social distancing" in daily interactions (abstaining from handshaking and other forms of physical greetings and keeping a 6 ft distance between one another).
You can still buy a car from us online
    1. Bronco Motors Sales Consultants are available to answer any questions you may have through text, phone and email.
    2. If you're ready to purchase or lease a car, use our Customize Your Deal tools where you can do up to 100% of the transaction online, and you can pick up your clean and sanitized new car on your schedule.
    3. We've got plenty of online tools to help you make your car buying decision easier.
    4. All in person demo drives will be self-demos until further notice. Virtual walk-around is available in addition to at-home test drives. Remote test drives are available. Ask a sales consultant for more details.
Schedule Service
    1.  All 5 of our Bronco Motors Service Centers are open to perform important service work and recalls.
    2. Valet Service - During this unprecedented time, we are offering Valet Service at no cost to you for the service or purchase of a vehicle from any of our 6 Treasure Valley Bronco Motors locations. For more information click here. 
    3. 
When performing service, we will be installing seat covers and steering wheel covers on your vehicle. In addition, we will perform a complimentary sterilization service and wash on your vehicle.
How We Are Helping
On April 1, 2020, Bronco Motors Family of Dealerships donated $10,000 to St. Luke's to help support their purchase of thermal scanners and their first-ever virtual Kid For A Night event. Right now, thermal scanners are an important device because they detect COVID-19 symptoms such as elevated temperature before people can enter facilities. Providing more of these scanners for St. Luke's and other local organizations will help stop the spread of coronavirus in our community.
"We've been here for the community before, during and after these uncertain times since 1971. It's the responsibility of our business to support people and businesses like St. Luke's who are on the front lines of COVID-19 in keeping our communities safe," said Grant Petersen Jr., President of Bronco Motors Family of Dealerships. Bronco Motors' ability to support St. Luke's couldn't be possible without the commitment of our employees and customers during these challenging times.
We encourage everyone to be kind and help out when you can. Bronco Motors continues to strive to improve your service or car buying experience. We're in this together. Thank you and we hope to see you soon.
Sincerely,

Grant Petersen, Jr.
CEO & President
Bronco Motors Family of Dealerships